---
Rainbow Gold Huggies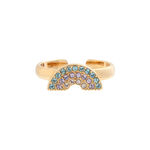 Rainbow Gold Ring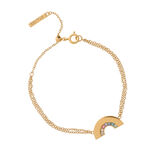 Rainbow Gold Bracelet
This product is not available in your country.
Why Buy Me?
I sparkle with positivity.
Description
In a sky full of clouds, be a rainbow. These elegant gold-plated sterling silver huggie hoops are at once radiant, stylish and playful. Their rainbow-shaped charms feature a dazzling spectrum of pastel-toned crystals in blush, lilac and aqua for a subtle touch of colour. With removable charms, these huggies are designed for seamless interchanging and flawless stacking.
OBJRBE08