Trending Now
The Latest from Olivia Burton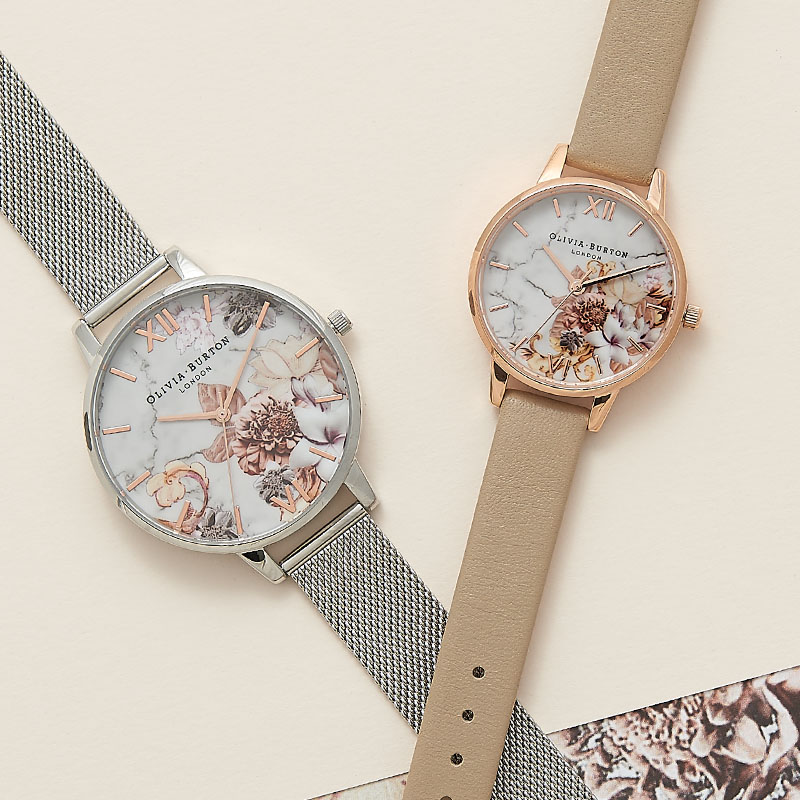 Marble Florals
For the first time at Olivia Burton, we've combined marbles and blooms in a collection that means you can champion two of your favourite trends at once.
What's the story behind the collection? We caught up with Jemma, OB Co-Founder and Head of Creative, to find out where the design team drew its inspiration from.
"Marble has popped up everywhere, from fashion to interior design. We're huge fans of the trend, but I just felt like it needed a bit of magic," Jemma says. "What better way to add magic than with an injection of florals?"
"We started by sourcing and photographing some pieces of reclaimed marble to create the base of the designs. We then began work on illustrating eye-catching florals that would pop against the marble dials. Working alongside our small design team, we hand-sketched a series of delicate peonies and anemones."
Two trends in one

Marble backdrops are contrasted by delicate florals

Available in leather strap or mesh bracelet styles
Our new Marble Florals collection features two different prints for you to choose from. Designs also come with a choice of leather and metallic mesh straps, offering pretty everyday styles as well as moodier looks that will take you from day to night.
"Of all the styles, my personal favorites would have to be the Midi Marble Floral in Sand & Rose Gold," Jemma reveals. "It's the first time we have used this striking new strap colour – it's surprisingly versatile. We really hope you love the collection as much as we do."